If there is something that Czesław Michniewicz isn't short of in his nine years long career in management at Ekstraklasa level, it's experience. Being only 42, he managed five clubs up to date and even though list of successes is still rather short, the expectations over his future and abilities were always high. Just day after taking up his sixth job, one will wonder, whether he has finally found a club that will just let him do what he knows best in the long term.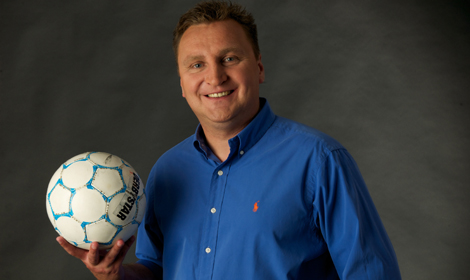 The only problem is that Michniewicz was signed by Józef Wojciechowski, the Jesus Gil-style owner of Polonia Warsaw, for whom sacking coaches is like a toast and bread for breakfast. Over six years he ruled at Konwiktorska, Michniewicz is seventeenth manager that put a pen under a luxury contract. That is more than Celtic Glasgow had in its rich history and equal to Liverpool FC. Remember, Wojciechowski needed just six years to match or beat them.
That is why there must be question asked – how desperate was Michniewicz to get that job. A man that counted on Jagiellonia to give him chance and rebuild the team that simply was a project over after Michał Probierz has left it with current season starting in few days. He struggled there for results, but not in giving chances to the talented youth of Białystok and maybe recent progress in the table under Tomasz Hajto is an effect in some percentage of Michniewicz's work. New Polonia's man was really disappointed in a way he was sacked from Jaga, not only because it was a journalist that broke the news to him first, but also in his attachment to the project.
At Polonia the aim is different, a lot. With three defeats already this spring and problems in the dressing room, Jacek Zieliński had to go after disastrous 0-3 loss to Korona Kielce, although being touted as one of the best domestic managers. With seven games to go, the very first question Wojciechowski asked Michniewicz was whether he knows what "3 x 7" means. For him, the answer was obvious – the championship.
Hardly believable is this faith of the owner, but his ambitions are even higher than that as he spends what he likes on new players in each transfer window – often not really caring what manager has to say. In his first interview after getting the job, Michniewicz recognized the pressure and even joked that it is simply matter of time when he is gone – and the willingness of the God as well – but said that it was an offer that he could not turn down. "Every manager dreams of fighting for the championship" - he said - "at Polonia, we are expected to do just that."
Michniewicz was obviously right – after rebuilding job at Jagiellonia, there were only jobs at maybe not cash-strapped but average clubs like Widzew, combined with one that was really struggling for a place in Ekstraklasa – Arka Gdynia. After his impressive first "mature" job at Lech Poznan – when he won Polish Cup and SuperCup, huge triumph with Zagłębie followed, Polish championship. But that was back in 2007 and since then, he hardly could keep up with that impressive record, also fighting with allegations over connections with those ruling the match-fixing mafia in Polish football.
The difference between his last job and the new one is, as said, huge. He faces mission impossible and knows exactly that Wojciechowski can sack him even if he gets many positive results out of last seven games but fails to win the championship. It is not only in his hands, but mostly in players' heads. That is why he puts more faith in motivation than tactics, leaving any thoughts of revolution aside and making sure that his players will enjoy their game once again.
Michniewicz picked Marcin Baszczyński out of the squad as the most experienced player to have a word with after first training session, then had a long chat with most of the team members to get them know better. Hardly an innovative thing to do but after demolition they have suffered on Monday, the challenge is huge this Sunday – Śląsk Wroclaw, despite recent slump in results, are known for their solidity and fighting spirit.
Michniewicz bravely admitted that he is no one, "zero" for Polonia fans – just another one that may win but not necessairly stay in the job. But his success in Polonia doesn't have to be long term. His ambition is to run successful club, ambitious one, but to have also comfort in job and faith of the owner. His first words suggest that he knows he will struggle for both of the last at Konwiktorska, given the record of controversial boss Wojciechowski.
For the 42-year-old, the issue is to once again prove, that he is able to compete at higher level than middle of the table. That his ideas are fresh, man-management good and tactics right to get chance even after his story with Polonia. With the managers' wheel still spinning in Ekstraklasa, there will be one rather sooner or later at club of similar profile, where a man capable of handling the pressure will be needed. Michniewicz may not be the perfect fit for Polonia right now – though he will be glad to prove his critiques wrong – but needed the job and shouldn't be condemned for taking it.
Although it seems like Wojciechowski's frustrations are coming from his ambition and need of a success, it is Michniewicz who will face the biggest disappointment if he fails. The short-term role he was given, little time to change anything, means that any wrong decision may be costly for his long future. In Poland, as in many other countries, the reputation sticks quickly to a football man – Michniewicz once was nick-named "Polish Mourinho" but may have change that if he faces disaster in last seven games of current season. Knowing his easily spotted ambition, he will hate being only known as an average club man.