You could see that something is not right in Polish national team. We lost to Spain 0-6 before World Cup, then were beaten by Cameroon 0-3, got unlucky draw with Ukraine 1-1 and finally failed against Australia 1-2. Our defence looks slow and easy to break with every move, midfield lacked fluidity and class while efficiency of our attack line was simply pathetic up to date. More so, the coach, Franciszek Smuda, seems like a person lost, trying every selection, formation and counting that it will work out itself, rather sooner than later. That was on the pitch, off it - seems that it wasn't any better.
Players were praising the atmosphere and despite results they were sticking together, being a team not a bunch of individualist. Smuda had hand in it, saying from the start what he expects and what he forbids players while they're on international duty. His words: 'I will not accept players  drunkenness, partying or lack of professionalism. One time, player came to me and asked if he can leave the hotel at 11 P.M. because someone is waiting for him. I told him that he can but there is no way back for him to my team if he does so.' As You see, he is strict but players seemed to like it. Or maybe they just knew how to avoid those rules and do everything behind his back.
After game with Australia in Kraków last month, two drunk players were caught by 2nd coach and team director at 4 A.M. wandering in hotels corridors. Sławomir Peszko (Lech Poznań) and Maciej Iwański (Legia Warszawa) did some partying in the latter room even though they knew that it is forbidden and it may cost them the place in Smuda's team. Few weeks later and the story is revealed by press and coach says they will not play for him and Poland anytime soon. That is probably the best thing that could happen to us before EURO 2012.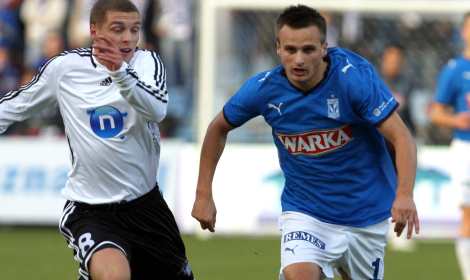 Iwański (left) and Peszko (right) both had their sight on other things than football lately
List of Maciej Iwański's sins is a long one, well documented and updated in last few days. For his behavior and form he was relegated to the youth team in Legia Warszawa, after some comments inside the dressing room during lost game with Ruch Chorzów. He is not saint as league managers had problems with him before, accusing him of negative motivation despite being team leader that involved shouting at others, abuse and causing disturbance in the squad. Some say that in his former club he was one of the main reasons why certain and famous coach was sacked.
What is wrong with Peszko then? The most likely story is that he was under Iwański influence and as his mate he couldn't resist the proposition to get few drinks after the game in his room. But he caused the problems, rather on the pitch, getting send off few times, lately being fined and suspended for his behavior during Sparta Prague game in Champions League qualifications, only to see it cut just before Juventus clash last week in which he played. 
But more importantly, both have something other in common - they never rose to the opinion they gained for their league performance, in national team. Why? Misused on the pitch, out of form during the international break or maybe squad is to weak for them? None of it, I'm afraid - both are simply not capable to show their skills for national team and against better ones, like Spain, Cameroon or even Australia and Ukraine. Peszko exist on the pitch only with the ball by his feet and his movement and effort off it is simply unnoticed, while Iwański, as playmaker, is always one tempo too slow and as a result, struggling to get in the game. What is enough for the league, is clearly not up to the national team standards. And I mean behavior off and on the pitch.
It makes Smuda decision not to choose them way easier. Also it is a chance for players that are more of a professional and role models in football with bigger talent than Iwański and Peszko have. We had enough evidence of that partying duo not being capable of reaching international standards and it was about time for Franciszek Smuda not to select them for football reasons. They handed him even better one and now it is the best time to move on and give a chance to players that deserve it.